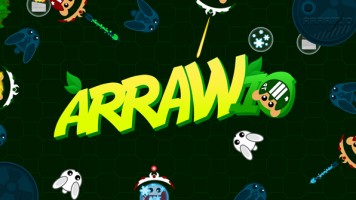 Arraw io is like Diep io with a bow and arrows. It is one of the most interesting multi-player io games. The game has its own lamp atmosphere gameplay. You are playing for an archer with unlimited amount of arrows. You will battle with numerous players all over the world. Travel across the field, aim, shoot, hit the enemies and destroy them. Otherwise,they will destroy you.
How to play

The main aim in Arraw io is to survive as long as possible. Also, it would be great to enter the TOP list of the players.
The rules are simple. Start the game, go to the arena, learn the rules of moving and shooting. The most important thing is to cope with the bow and arrows on a professional level. Then, you will be successful in the battle and you will cope with the enemies' attacks. There are two variants of attack: an ordinary attack and a special attack. Make a left click of the mouse to start an ordinary attack. Make a right click of the mouse to start a special attack. Don't forget to aim before shooting.
It is quite easy to become a professional player of Arraw io. But pay attention at the couple of moments. When you start an ordinary attack, the speed of shooting is high, but the damage is not very big. When you start a special attack, the speed of shooting is not very high, but the level of damage is higher.
Control
Use WASD or the cursor to move
Make a left click of the mouse to start an ordinary attack
Make a right click of the mouse to start a special attack