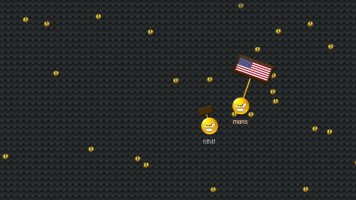 Basher io = Agar io + Zlap io. In this game you must collect coins in order to enter the TOP of the players. When you collect coins, your hammer grows and its damage increases. If you defeat the enemy, you can receive his scores. The hammer and the damage grow simultaneously. But, in order to use the hammer, you must invest money. The war is quite expensive. So, your attacks must be rare but powerful and precise.
How to play

Choose a skin and a flag of the country that will be depicted on your hammer. The main aim is to collect as many coins as possible. Use the hammer, to knock out coins from weaker players. Imagine that somebody has 100 coins. You have caused him some damage; the volume of your damage is 70. Then, 20 coins will fall out of the defeated enemy, because other coins will "burn down". Meanwhile, the enemy still has 30 HP, just for one attack. If you have a big amount of points, it's difficult to kill you. Use the hammer, to speed up. Remember: when you use the hammer, you spend the money. The volume of your expenses depends on the size of your hammer. So, when you grow too big, try to defeat the enemy with a single blow.
Basher io is a fast dynamic game, especially when there are many players and you must battle without a break.

Controls

The character follows the cursor
Hold the click to use a hammer