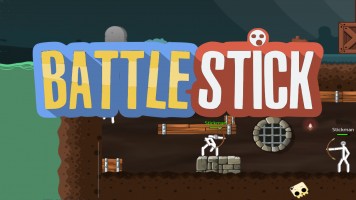 Battlestick = Kugeln io + Arrow io. It is a mortal combat of archers. Be precise and try to maneuver in order to escape from the enemies. Control is very simple, so everybody can play this game. The game is really simple, funny and exciting. The sounds are full of humor.
How to play

The main aim of Battlestick io is to stay alive and safe. To do this, you should complete a very difficult task. The task is to kill all players. During the battle, you should also find place and time to improve your health.
The game has two modes: team mode and FFA. In both modes one round lasts several minutes. After the round the gamer receives prize scores. If you register in the game, you may use these scores to purchase skins for your character and, in the nearest future, it will be possible to acquire other weapons.
Controls

To move, use the cursor.
Click, to hsoot.
Arrow down, to fall down and improve health. In this situation, it is impossible to shoot.
Tips and Tricks
To improve health, go to the faraway corner of the map and hide somewhere. It is really good to fall down on a new corpse or to mask.
If you run into the obstacle on a high speed, you will jump very high.
To be safe, go away from the center.
It's better to go to the edge of the map and shoot at the new players in the centre.
While you are in the Top list, your scores increase twice. So,it is really profitable to be a leader