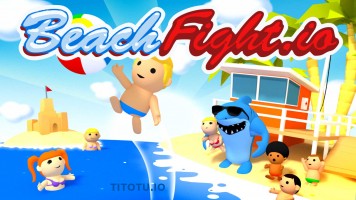 Beachfight io is a continuation of a winter Christmas game Snowfight io. You must throw beach balls to each other, try to achieve the Top step by step and escape from a cruel immortal shark. You will have a lot of fun and receive great positive emotions!
How to play
The main aim of Beachfight io is to enter the Top. You must be good at shooting. Also, you must collect items that will fall out from dead enemies. Try your best to stay alive. When you destroy other players, your level increases and new types of the weapons become available.
You can zoom in or zoom out the camera to choose the optimal view. If you zoom out and then the game becomes slower, hold the shot button for some time. The ball will grow bigger, it fly for a longer distance and the damage will increase. But, if you hold the shot button for a very long time, the ball will turn into a sandy cube. You may use this cube for protection.
Beachfight io is an interesting, funny ad kind game for all ages. You will enjoy battles with other players and have agood rest.

Control
Use WASD to move
Make a click to shoot
Use Q ad E to zoom in or zoom out the camera