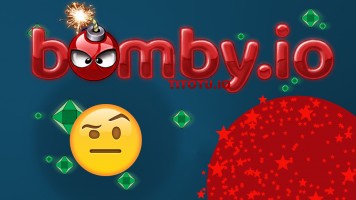 Bomby io is a combination of popular io game Agar.io and classic Bomberman. On the one hand you have to collect green gems, on the other — keep bombing bots and other players. First kill you with a touch, latter with bombs. Killed players also leave gems. Gems increase your level and make bombs explode harder. Be careful, your own bomb can hurt you as well.
How to Play
Main aim of Bomby io is to get to the TOP. The more green gems you collect the higher is our rank, the more angry your smiley becomes and more powerful boms you have. Around you there's a dark blue circle. When bots are inside this area they become activated and start to follow you. So you should be very careful and try not to touch sleeping bots. You still have a chance to run away from bots since you have higher speed.
Controls
Move by mouse
Click to land a bomb
Though Bomby io has simple gameplay it's very dynamic and competitive game.