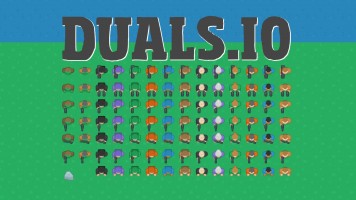 Developer of this game confirmed that Duals io is his first work. However, it turned out to be really good! From the first sit, it seems it is just one of many boring shooters. However, when you understand specifics of this game, you will see that it is exciting.
In general it is not just a shooter; it is a multi "capture of the flag". The map is divided into squares, and it is necessary to capture every square. Moreover, there is a great choice of weapons and upgrades. If you are a fan of shooters, try the game Slay one.
How to play
The aim of Duals io is to capture the circles. On the mini map you can see that the game is divided into 25 colored sectors. If you capture the sector, it is painted into your color. You must enter the circle in the center of the sector and stay there for some time. Then the sector is captured, and you receive bonus money. Also, you may receive bonus money if you destroy boxes, zombies and towers or kill other players. You may invest this money into the ammo and improve your weapons. Make a right click to visit the shop of ammo and weapons. Moreover, you can purchase zombies and towers to protect your sectors.
It is necessary to buy the protection. Choose one type of weapon, upgrade it to the maximum and ten always use it. It will be really efficient.
Use zombies and towers to protect your sectors in Duals io. It is really difficult to destroy upgraded tower wit flare guns. If the tower is standing near the circle you want to capture, use the walls to protect yourself from the tower until the sector is captured.
Control
Use WASD to move
Make a left click to shoot
Make a right click to open menu of the shop
Use wheel of the mouse or Z / A to change the weapons