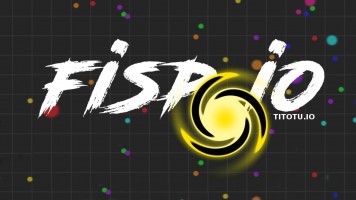 Fisp io is a typical game for gaining weight with spinners. It's really exciting! It is on a par with the severe game Piranh.io and with the hard game Vikings Village. You must collect colored dots of the mass, knocking them out from special circles and other players. The game is a new interpretation of the spinner. It also demonstrates new approach to io games, in general.
How to play
The aim is to gain weight by collecting colored dots of the mass. You can use different methods to get them. The mass may just appear in the space, it may be knocked out of yellow circles or other players. When you touch red obstacles or borders of the map, you lose weight. To speed up, use your mass points.
New rules make the game attractive for many fans. Here, there is a really interesting battle between the players. It is possible to steal the mass, so every player must be careful. The graphic is bright and multi-colored. You may use the full range of your tactic abilities.

Controls

A spinner follows the mouse
Use a click or Space to speed up