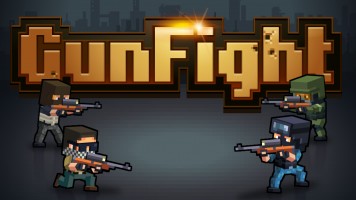 Gunfight io is an implementation of super popular CS:GO shooter in an io game format. At first sight looks like Slay one Junior. Rules are very simple. Actually no need to get into them, just start playing and you will understand everything shortly. Gunfight io is going to be updated regularly, so we might expect new locations, weapons and etc.
How to play
If required Gunfight io provides a small tutorial. If you've already hit Fast Game button follow simple rules: Right click on enemy to aim (in case of Office location you will need to stand in front of the window), left click to shoot. Keep moving to not to get killed. The team that gets 25 kills first wins. Round lasts for 3 minutes.
At the beginning you may select the existing room and join either Terrorists team or Counter-terrorists, and choose you skin. If you wish you may create the room yourself. In this case you'll have choose a location as well.
Right now 3 locations available: train station, factory and office.
Controls
Moving: WASD
Aiming: right click
Shooting: left click
Hints
Always keep moving, shoot and move
Try not not to happen at the same place with your teammate, because one bullet will shoot you both
If you loved Gunfight io Titotu.io recommends you to try also Karnage io shooter!