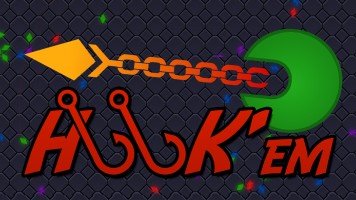 Hang all your enemies in Hookem io! It is the main idea of this game. But why is it a hook? The hook is the most important and powerful weapon in this game. Players are moving on the map, and every player has his own ability, type of the ability depends on the player's color. Don't surprise if the enemy teleports unexpectedly. It is not a bug, it is an ability of the purple drone. There are other peculiarities, but they will be mentioned below.
How to play
At the very beginning you must choose class of the drone you will play for. Also, you may rely on a random choice. Every class in Hookem io has its own properties and special abilities. It is great that you can switch between the classes for a small fee (10 units of energy). For example, the enemy's bomb has touched you, and you need to escape quickly. In this case, you may switch to the racer and escape. In different situations, it is profitable to use different classes of drones. Use them efficiently, and then you will be the strongest!
Pick energy crystals to restore your life. You will receive one unit of life for every 4 crystals. Don't touch circ saws on the edges of the map.
Also, there are some bonuses on the map that can make you invisible and invulnerable.
Control
Use a left click of the mouse or Q to throw a hook to the enemy. When your enemy is hanging on the hook, its energy is being transferred to your drone!
Use a right click of the mouse or W to activate a protection shield. Use the shield to protect yourself from the enemies' hooks. Also, you may use the shield to attack the enemy and to chop him into small pieces.
Use number keys 1 – 4 to switch classes of the drones during the game. It can be useful if you need to activate any ability (for example, if you need to teleport quickly). Every switch will cost you 10 scores.
Use Enter to open the message form. Type your message there, press Enter, and your message will appear above your drone.