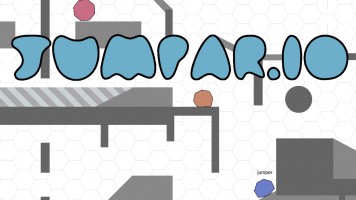 Do you remember a simple game Hopz.io where you must jump over the enemy to destroy him? Jumpar.io is a further development of this idea with the jumps.
How to play
In Jumpar io you are playing for the bag with balls. You are moving across the map with numerous levels, hills, mountains and other things you can climb on. The aim is to jump on the enemy from the highest point. Use all these hills and mountains to climb as high as possible. Press the button "Up" several times in a row, and then you will also climb higher. Jump, and press "Up" again at the highest point. When you fall down, you don't receive any damage. Falls don't influence on the process. Your bag is flexible, so you can push it to the narrow places.
Jump on the enemy to destroy him. Moreover, you must jump on the enemy from a sufficient height. Then, the enemy will be broken into pieces, and you will continue the game.
It is a curios game. However, at the moment it is quite raw. Only American servers are available, and it has a great influence on ping and on the game process. However, it is a promising game. We recommend you to try it!
Control
Use the cursor or WASD to jump and to move