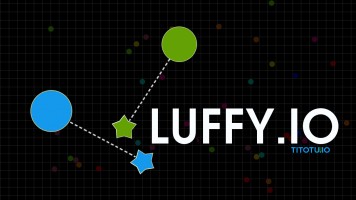 Luffy io is an amazing game even for most experienced io players. It is really simple and, at the same time, it is rather difficult. The game is a little bit similar to Zlap io, but it is based on a unique type of interaction. The aim is to gain weight and to save your star from other players.
How to play

The aim is to protect your star and to destroy the stars of other players. To be successful, absorb the mass and discover new levels. The higher is your level, the more powerful is your weapon.
The game is based on a unique principle: to kill the star, touch the star with a ball. You can move the ball, but you can't move the star. The star and the ball can go away from each other just for a small distance. Use the Space to swap the ball and the star.

When the balls fight face to face, a bigger ball will gradually destroy the enemy. So, it is really useful to collect dots of the weight. But the mass of the ball doesn't influence on the star's vulnerability. Even if you have the biggest ball, a star may be destroyed by a single touch.

Controls

The ball follows the cursor
Use the Space to swap the ball and the star