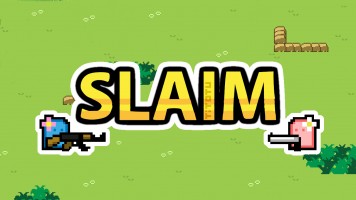 Slaim io is an original arena where you will take part in a mortal combat. You must shoot, cut down the enemies and hit them by katana. Also, you may hide in the bushes and attack from the ambush. Te graphics and crazy atmosphere are included. Slaim io is based of blood, guts and a very short life. It will drive you crazy.
How to play
The game is based on constant evolution. The main positive aim is to upgrade ad to increase your range. Scores of upgrade fall out from defeated enemies. These scores look like DNA spirals. Upgraded weapons can be found in boxes that are appearing in different places of the map. A high range increases your speed and the damage of your weapons.
You can shoot from the weapons, it your enemies with a sword, crawl ad hide in the bushes. These simple actions are enough to make a cruel battle in Tarantino style.
Location of the enemies is shown on the map. If you are going to the enemy's side, it would be good to make some shots in this direction. If the bushes are moving, somebody is there. Shoot immediately.
Pay attention at the yellow stripe under your character. It shows the volume of ammo. Try to maintain the maximal volume of ammo. You must reload the yellow stripe on time.
Use a smooth slide + a hit of the sword. You will overcome a long distance between you and your enemy, and destroy him.
Control
Use space to slide smoothly to the enemy
Make a left click to shoot
Make a right click to use a katana
Use R to reload