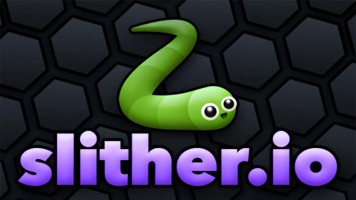 Slither.io is one of the most popular io games. You begin the game as a little snake and your main goals are to collect colorful glowing pellets spread over the map and to stay alive as long as you can. No time to relax - over 500 players are online and at any time you may come across an agressive enemy that might try to attack you. Nevertheless map is big enough to find a place for peaceful harvesting. The worm can accelerate - jusr press and hold right mouse button. This might be useful when you need to attack someone or get away from suspicious player. Acceleration costs pellets (rating) and worm gets smaller.
Win and loss conditions

Slither.io is kind of never ending games, so you may try to get to the TOP10 players by rating (see right top corner) or try to stay alive as long as possible.
You lose when you worm hits any other worm.
Controls
Move - by mouse
Accelerate - hold mouse right button
Game modes

FFA is the only game mode in Slither.io game.
Tips and Tricks
You may boost growth of your worm using Big Crash tactics. Big Crash is when big enemy worm dies and other players rush in to collect the pellets dead worm left. In this mess worms usually crash into each other leaving some more pellets to others) So simply find a big worm and follow it for some time, but be careful and don't be greedy.
As soon as you're big enough you may enjoy Python tactics. Wrap around a smaller player and make him hit your worm by shrinking the ring little by little. That's funny!
To get new skins click Share on Twitter button on the main game page and reload the page (no actual sharing needed).
Slither.io is quite bandwidth consuming game, so you're recommended to have fast Internet connection for comfy play. In case game is still slow, try to switch to low quality graphics and make game window smaller.