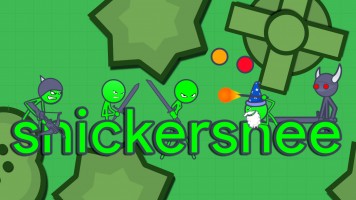 Snickersnee io is a combination of a game for gaining the mass with a shooter. The developer wasn't original while choosing the objects for the game field. Most objects are copied from other io games. However, the game has a right to exist, and it is a great way to shoot colored balls into other players. When your balls grow, their power and damage increase.
How to play
The aim is to gain as many mass scores as possible. You must collect colored dots that are located in different places of the game field. Use the balls to attack objects on the map. When you attack these objects, you receive scores and gain the mass. Also, you can knock the scores out of other players, and it will be honest.
The player with the biggest amount of scores receives the leader's crown. It will be difficult to take the crown away from him, because the players with bigger mass have bigger balls of great damage.
To sum up, it is an original shooter, and you may spend some time on this game. It will help you to cope with stress, for example.
Control
The character follows the mouse
Make a click to shoot