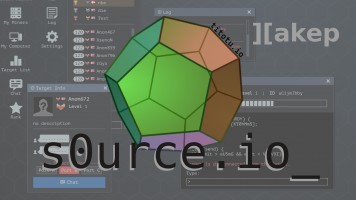 s0urce io is one of the greatest io games. You will play for the hacker who must pass 1000 levels. And it is possible.
How to play
The aim is to hack other gamers and protect yourself from other hackers. To do this, earn bitcoins. Bitcoins can be earned automatically and by means of hacking. To receive money automatically buy additional servers at the Black market.
In this game, there is an easy tutorial. Hacking is done according to the following scheme: you write the commands into the console trying to break the enemy's firewall. Your enemy can notice it and protect himself. There is a game chat, and it's great to find partners and make a group attack of the same server. To protect yourself, upgrade your firewalls, improve capacity, the difficulty of break-in and the automatic renewal.

The game is really exciting. If you start playing this game, you won't stop until you built the Quantum server. But it will take just an hour to do this.