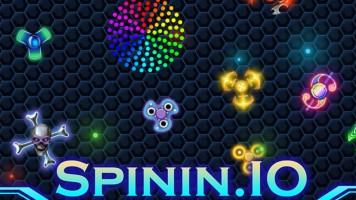 Spinin io is a game about spinners in the style "Collect and grow". Here, you have a great opportunity of upgradeinside the game. You receive prize coins for games and victories. Use these coins to upgrade your spinner. Playing thisgame can be compared with having a cool car in the garage.
How to play
The main aim in any mode of Spinin io is to pick colored dots, increase your mass and damage, defeat other players. You must learn how to use speeding up whirls efficiently. It will help you to attack and win. The game has a really original battle system. Unlike many other spinner games, even smaller players have a chance to win. When you run into other players, they lose colored dots of the mass. If you pick these dots immediately, you will become bigger, and your enemy will become smaller. A strong player can't defeat a weak one by a single blow. So, it is really difficult to kill anybody.
Spinin iois a great game with many different modes and a fast gameplay.

Control
Spinner follows the mouse
Make a click to speed up