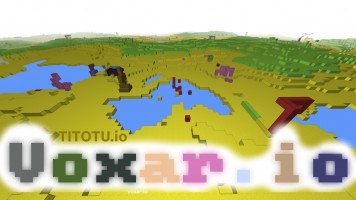 Voxar io is a 3D art canvas. We already have a 2D game Pixelcanvas io, and now welcome to the 3D art object. Here, you may create your own atmosphere with all necessary items. You can play on your own or join your friends. Te game is being developed actively, so innovations and upgrades may be added. The game has a simple rules and it is easy to understand. There is a huge space for creation. So, it is really exciting.
How to play

To play the Voxar io, you don't need anything except a computer and the Internet. The developer says that it is the main advantage of the game. The aim is to express yourself in the endless 3D space. To join your friends and act in a group, copy the link with your location. Click the icon Tools (in the right corner of the screen), and you will see the link with your current location.
Moreover, you cookies can be saved. When you enter the game for a second time, you start from the place where you stopped the last time. At the moment, there are few players, so there is a hope to find your towers and houses untouched.

There are also building materials. These are figures of a cubic shape painted in many colors. You can also make the process of playing more comfortable. There are some opportunities for customization. You can choose any point of view from which you will observe the game.

Controls

To make the control more comfortable, there is a special panel of tools. You can switch by means of the mouse or use the number keys:
View — mode of the free camera
Build — mode of the building
Pick — dropper for taking the preferable color
Destroy — destruction of the cubes