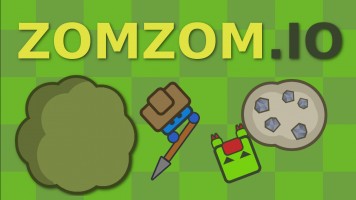 Zomzom io is a combination of two popular io games Moomoo io + Glor io. You'll have to gather resources for buildings and food for your character as well as you'll have to manufacture weapons and fight with other players and zombies appearing occasionally on the map.
How to Play

Main aim of Zomzom io to get as many rating points as possible. You can earn point via gathering resources (wood, stone and apples) from trees, mines and other sources on the map. One resource point = one rating point. Apples used to restore food bar, wood and stone - for building defense constructions, buying weapons and ammo manufactures.
The more ammo factories you have, the better, because bullets produces automatically and buying them from the shop is very expensive and not a good idea at all. Killing a zombie will cost you a lot of bullets. Amount of barrels increases instant damage that can be dealt to a enemy.
Be sure there'll be enough zombie for everyone!
Controls
WASD to move
Mouse to grab and use items