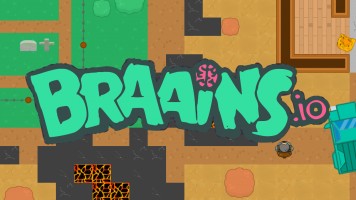 Braains io is a tag game, like one of the Brofist io modes. At first, some humans appear. They have a time to run across the territory, in order to escape or to block from zombies. Then zombies appear. By a single touch, they turn people into other zombies. You may protect yourself with weapons and furniture. To buy weapons, use the bonus money. Sometimes you can find weapons on the map left as a bonus. The game is made with a sense of humor, and it's quite easy to find a partner.
How to play
When you are a human, the aim is to survive. If you survive till the end of the invasion, you will receive bonus money. If you are bitten by a zombie, you will turn into another zombie. Then, the aim is to bite all humans and to prevent them from victory. It is a team game, but it is not necessary to cooperate, you may successfully act on your own.
You can't kill zombies with weapon, only for defense. Direct your weapon towards zombies and don't let zombies touch you. If you register in the game, you may enter the world rating and try to get to the TOP.
On different servers there are different maps, so the game is versatile. At first, it seems strange that there are so many gamers and the servers are always occupied. But, when you play a couple of rounds, you will understand that this eternal battle is really exciting.
Controls
WASD or mouse to move