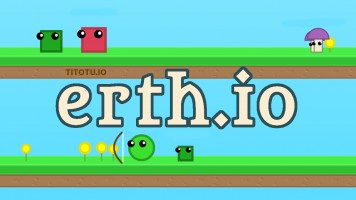 Erth io is an original multiplayer game. You can choose one of the three roles: the Warrior, the Archer or the Magician. Each of these roles has a unique upgrade queue and battle style. You can fight others or stronger creatures on the map, cubic heads and mushrooms. There are many levels. When you pass to a higher level, the monsters become more dangerous. The graphics is pleasant, the battle system is simple, the levels are difficult to pass, and there are many online players. So, you will spend many hours playing this game.
How to play

The aim of the Erth io is to upgrade your character to the maximum and then enter the TOP of leaderboard (see the main page for stats). Pick flowers, destroy mushrooms and monsters with cubic heads to upgrade. When you pass to a higher level, the monsters become stronger and battles with them become more dangerous. Also, you may battle with each other. Don't miss a chance to defeat your enemy if he has just battled with somebody and has lost a lot of HP.
Each of the three classes is upgraded into a new type after the 10-th level of the game. For each level you have passed, you receive the score of experience. Use the score points to improve your health, damage or speed.

It is a new io game, so there are some bugs and drawbacks. But the idea is really exciting, and the developers are working on the game with great enthusiasm. So, it is going to become a hit quite soon. Every week, or even more often, new improvements appear. If the developers go on working this way, the game will surely enter the Top list of io games.

Controls

WASD to move
Space to speed up
E to start automatic attack
Left click to attack
Right click to stop
Press Enter to enter the chat